Free UK Shipping
On Orders £30+. Next Day on Orders £80+
Same Day Dispatch
Weekday Orders Placed Before 3pm
Free Returns
100% Satisfaction Guaranteed
Lifetime Support
With Extended Warranties
Free UK Shipping
On Orders £30+. Next Day on Orders £80+
Same Day Dispatch
Weekday Orders Placed Before 3pm
Lifetime Support
With Extended Warranties
Aquarium 2 Way CO2 Splitter For Solenoid Or Regulator
£32.99
Aquarium 2 Way CO2 Splitter for Solenoid or Regulator

Key Facts
Split your CO2 supply from one source to two outputs.
Easy to install, requiring no modification to the regulator.
No need to purchase multiple regulators and cylinders.
Accurately adjust flow rate for each output using accurate needle valve.
Made of Brass and Alloy, very durable and will never rust.
For 4/6mm tubing.
Comes with 57mm extension for regulator attachment.
Description
Using a splitter on your regulator you can split a single CO2 source to multiple outputs. For example, if you need to power multiple diffusers or have more than one aquarium.
A splitter saves the cost of purchasing and maintaining more regulators and CO2 cylinders.
Easy to install; simply screws onto your existing regulator needle valve. Supplied with an extension to ensure the splitter assembly is clear of the regulator body or pressure gauges.
Instructions
Unscrew compression collar from needle valve or regulator.
Place small O-ring over needle valve nipple.
Locate the extension provided with the splitter set. Check there is an O-ring at the end of the extension. The O-ring should be seated at the bottom of the thread.
Screw the extension end that has the O-ring onto needle valve.
Locate the splitter assembly and check there is a small and large O-ring deployed on the male thread.
Screw the splitter onto the extension and tighten fully.
Adjust flow of CO2 for each output using the needle valves.
Customer Reviews
Average Rating
Individual Reviews
See more reviews

Photo Viewer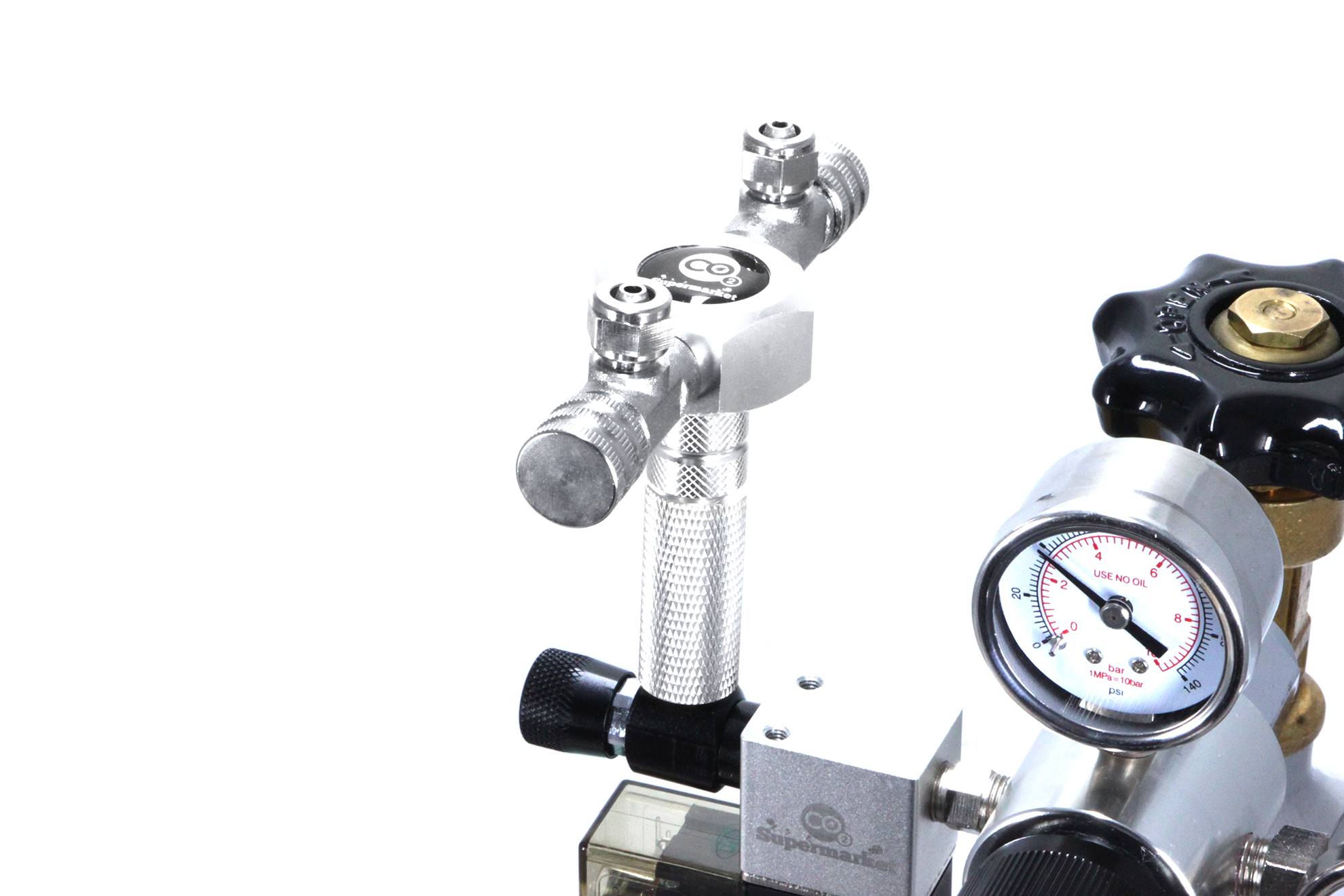 click image to view full screen